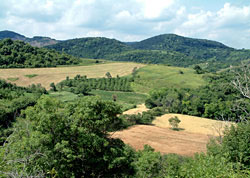 About us
Fruska Gora is proclaimed a National Park in 1960 in order to provide its permanent protection and to improve its natural resources and beauty. The area of active protection is 25.525 ha.
Fruska Gora is an isolated, narrow, island mountain in Pannonia plain. It is intended by river courses extending to the south and north, with some side ranges with steep slopes, spreading from the main narrow range. Its location, specific geological history and different microclimatic conditions make it very interesting and important to science. Thanks to unique and very rich deposits of fossil fauna and flora, Fruska Gora is called the 'mirror of geological past'.
The main characteristic of this region is the existence of numerous protected, rare and endangered species.
Fruska Gora's valleys are covered with pastures and fertile fields, numerous vineyards and orchards which decorate its lower slopes while higher ground, above 300 meters, is covered with dense deciduous forests.
Fruska Gora hides 16 orthodox monasteries famous for their specific architecture, treasuries, libraries and frescoes and numerous archeological sites from prehistoric and historic times as well.
Due to its outstanding natural resources, wonderful landscapes, exceptional charm and beauty, that will bring you closer to nature, Fruska Gora is ideal place for rest and recreation.
The Fruska gora is a natural entirety with specific geology, relief, hydrographic and varied edaphic conditions. All this, as well as specific climatic conditions, has given rise to the development of a specific flora and fauna that has attracted numerous researchers.
The oldest records on the nature in the Fruska gora were made by botanists in the middle of the 18th century, followed by numerous studies of geological, paleonthological and geomorphologic forms and phenomena, flora and vegetation, fauna and the other fields of natural and social sciences.
On the basis of numerous investigations, "The Fruska gora Monograph" has been published. A great number of papers, essays, expert opinions, and proposals on the Fruska gora have been published as well. In the 19th and the first half of the 20th centuries, data were collected that clearly showed that the Fruska gora is endowed with exceptional nature values.
In the papers of the scholars from that period, there is a suggestion of the need to preserve this wealth. After the Second World War nature protection activities began. In 1948, the Fruska gora was proclaimed a National Picnicking Place and placed under the general protection as a unique mountain area with well preserved forest vegetation, flora and fauna.
In 1960, a law proclaiming the Fruska gora a National Park was passed. The borders of the National Park encompass the most typical part of a broader region under the forests. These borders have largely remained the same till today and mark a territory of 25,525 hectares.
Due to a major scientific importance in the monitoring of processes and trends of a spontaneous development of natural ecosystems or because of cultural and educational importance, certain parts of the Fruska gora, as the best preserved remains of autochthonous communities in this region, have been placed under special protection. There are 39 protected areas and another 26 are planned to be protected. They are:
Since 1990, according to the new legislative regulation, the National Park, being protected area of exceptional importance for the Republic, has been classified in I category. In accordance with a legal requirement that adequate protection regimes have to be defined, during the last two years recognition of the nature values in the National Park has been taken.
Top