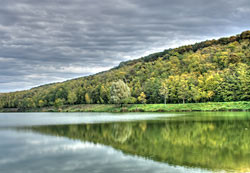 Fishing
If your favorite activity is to go out fishing, you will find many places to go fishing in the Fruska gora National Park. One can choose between artificial reservoirs or Danube, one of the largest river in Europe, in vicinity of the Fruska Gora mountain. There are three artificial reservoirs: - Sot (22 ha), partly surrounded by the forest that serves as hunting reservation "Vorovo", - Bruja (15 ha) near Erdevik settlement, with water from thermal spring located 200 m from reservoir, and - Moharac (60 ha) also near Erdevik.
There are also some fishing ponds owned by National Park. National Park Managing Staff takes care of reservoirs' water quality preservation. It is also responsible for preserving and improving fauna and flora in reservoirs.
Reservoirs' water are rich in carp, bream, pike, roach and other fish species. Fishing license may be obtained on a daily basis at warden service barracks located near the reservoirs.
Top